Tharseo IT helps DC Health Migrate Ellucian Banner ERP, Degree Works, and Databases to Oracle Cloud
Overview
Bolstering the healthcare infrastructure in the wake of Covid's rampage continues to be a top priority for public health agenices across the US. While some agencies are still trudging through the planning phase, public health officials in the nation's capital have turned to Tharseo IT to help them implement a data-driven approach to program and policy development, deploying a full-duplex data management platform on Oracle Cloud Infrastructure.
The Public Health Department of one US state has helped state residents and visitors identify health risks, prevent and control diseases, treat injuries, avoid exposure to environmental hazards, and provide equitable access to public health and human services.
Although the department had been solely responsible for collecting public health records, it had previously gone through third-party vendors to manage and analyze these records. Not only did this arrangement thwart efforts to visualize and interpret the data, it undermined the agency's ability to immediately act on any insights. To remedy, the deparment created a multi-cloud "data bridge" that moves data between state agencies, the federal government, public health officials, and other stakeholders.
Highlights of the architecture include:
Untethered access to data managed in a secure government cloud region on Oracle Cloud Infrastructure
Multicloud integration between AWS, OCI, and private clouds managed by the US Congress, and the Whitehouse
Data Bridge platform that ingests data from individuals, schools, hospitals, pharmacies, and myriad databases and applications
Data synchronized in real time, using GoldenGate, and stored in an Oracle Autonomous Data Warehouse
Since deploying this data bridge on OCI, Tharseo IT helped the public health services agency to:
Generate ad hoc reports on demand
Communicate immediately with the public about imminent health risks, personalized treatment options, and available service providers
Onboard vendors and healthcare service providers to the public health systems quickly, as new diseases and drug therapies emerge
Architecture
Tharseo IT has built and deployed a data bridge for a state and local government agency (state) using Oracle Base Database Service and Oracle GoldenGate hosted on Oracle Cloud Infrastructure (OCI) Government Region East (Ashburn). The data bridge integrates multiple applications and databases into a centralized staging database using a two node Oracle Base Database Service Real Application Cluster (RAC) and a data warehouse using Autonomous Data Warehouse.
The first integration point is a SaaS application used by the state, to track vaccinations, that is hosted on a 3rd party cloud and connected via a site to site VPN tunnel. A GolgenGate hub is deployed into the 3rd part cloud to pull data from the SaaS application database to a GoldenGate manager instance in the state's OCI tenancy. The data is then stored onto the staging database.
The second integration point allows various US Federal Government agencies to integrate with the Autonomous Data Warehouse for reporting the state's data at the federal level.
A third integration point integrates other state health applications that are hosted in various locations from other clouds to on premises. These integrations also use various data integration tools to push to the staging DB through GoldenGate and onto the data warehouse as needed.
The following diagram illustrates this reference architecture: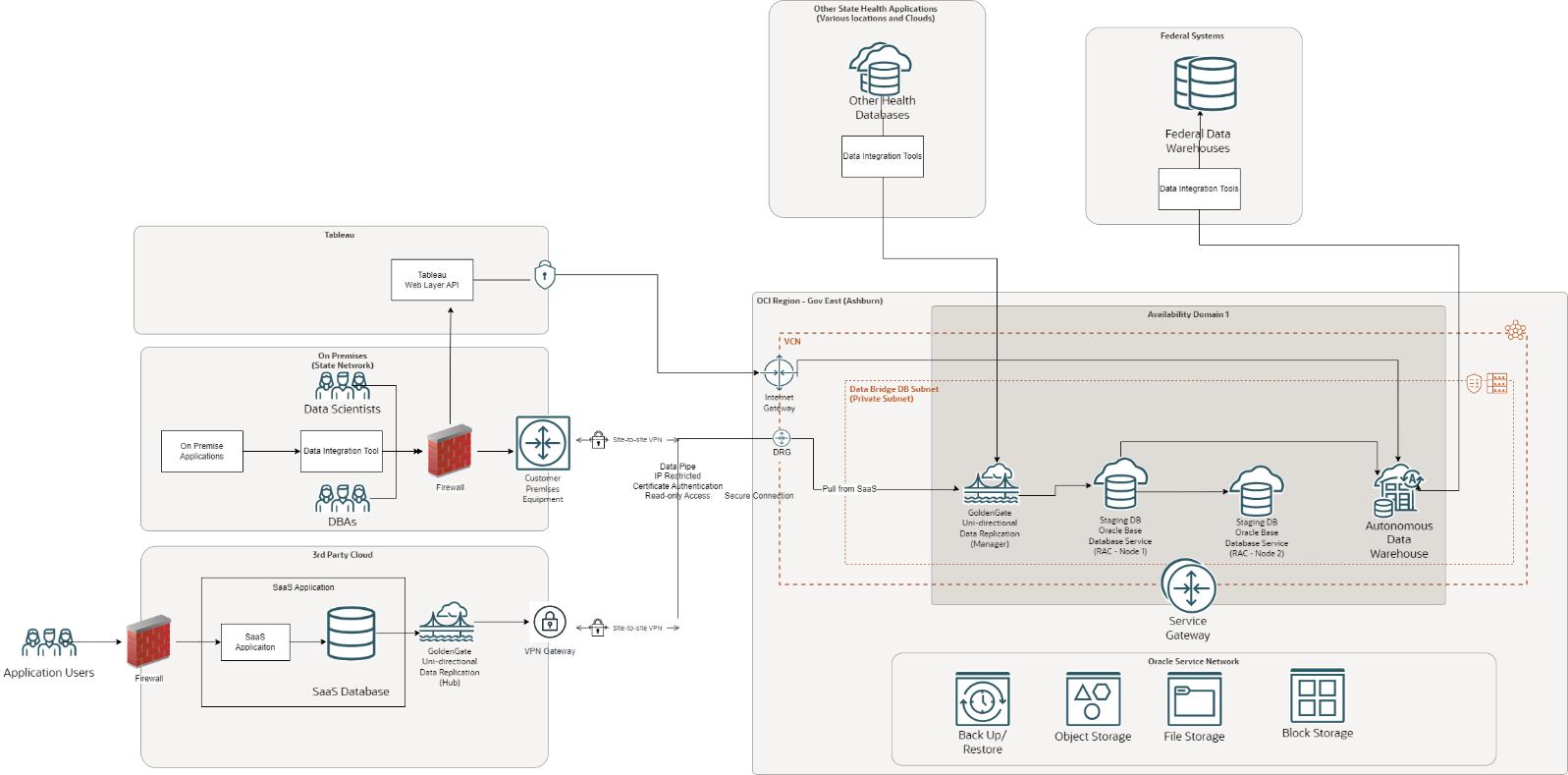 Data Scientists and DBAs access the staging database and the data warehouse from the on premises network that is connected via site-to-site VPN. Data Scientists access the data warehouse and run analytics through The Tableau Web Layer API.
For additional layers of security the state agency uses firewalls deployed in various locations to enforce rules and policies, and filter network traffic. In addition to firewalls, the public health department has also implemented security lists and network security groups on the subnet in the OCI tenancy. The IP tunnels are restricted by IPs to ensure that only trusted source IPs are allowed to enter the Virtual Cloud Network (VCN).
The state uses block storage and file storage for additional storage capabilities.
For disaster recovery (DR), the state backs up the database frequently to object storage and offloads the backups to OCI Government Cloud Region Phoenix as well has on premises to have additional copies of the backups.